As Metlab continues to grow the company is adding more capacity and fleet services to accommodate customers. Recently the company added a 26 foot Box Truck that can haul up to 26,000 GVW.  This is in addition to several other trucks and vans that allows the servicing of routes throughout an area within a 100 mile radius of the heat treat facility as well as parts of Maryland and New Jersey for pickups and deliveries. The new box truck is also a strategic addition to the company to compliment the amount of projects for Metlab's new Vacuum Furnace installation.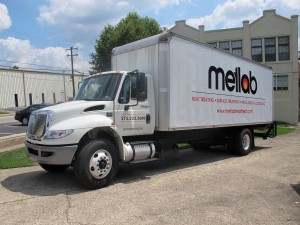 The new VFS – HL34 furnace was added in August to accommodate the demand for heat treating stainless and tool steels and high temp nickel based alloys. This vacuum furnace compliments an existing smaller furnace and has a work zone approximately 24″ wide x 48″ deep x 24″ high.
The increased capacities allows for processing new materials and a wide range of part sizes.
• Tools and dies
• Stainless Steel Tubing
• Aerospace jet engine parts
• Medical parts
Currently Metlab is running three shifts on the new vacuum furnace.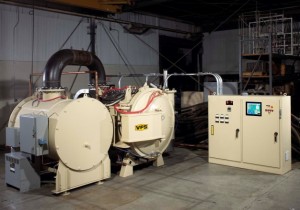 Metlab offers vacuum heat treating of stainless steel, nickel base super alloys, tool and die steels, as well as parts made from other materials like titanium and copper based alloys. The equipment used by Metlab has an all metal (molybdenum) hot zone in a stainless steel water cooled chamber, high vacuum diffusion pump system, current proportioned power supply for controlled heating, state of the art microprocessor controls to allow for automatic temperature and vacuum control, and repeatability. The furnace is rated for a maximum 2400°F operation, at a vacuum level of 10-5 Torr. Applications for the furnace include bright annealing and hardening of tool and die steel molds and dies, heat treating stainless steel medical instruments and implants like hips and knees, age or precipitation hardening of 17-4 PH, 15-5 PH or 13-8 Mo Stainless Steels, and other processes where clean, scale and decarb free surfaces are required.
Benefits
• Nominal surface oxidation or discoloration
• Minimal part distortion
• No post cleaning operations
• Near finished, machined shape prior to treatment
Vacuum Furnace Applications:
• Hardening
• Annealing
• Normalizing
• Solution Treating up to 2400°F
The vacuum furnace operator and Metlab's electrical engineer have been to Ipsen University training in Rockford, Illinois for operations and maintenance training. Ipsen U is a practical course for building and refreshing knowledge of vacuum thermal processing equipment specifically the VFS furnace that Metlab just acquired.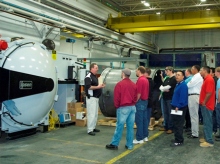 Ipsen U addresses all levels of experience and is geared specifically for the two Metlab employees who attended.  They were encouraged to ask questions about their furnaces and applications, and some of the maintenance and technical issues that they encountered on equipment startup. The class they attended followed a format that allowed them to interact with several Ipsen maintenance and technical experts and have their specific questions answered as well as hands-on operation of similar furnaces and maintenance procedures.