Metlab has received two contracts from defense contractors to heat treat tank components. The contract is part of an ongoing multi-year program supported in part by US funding. Metlab was selected for this program due to its unique heat treating capabilities for processing large components.
The first contract was received from an Israeli defense company to nitride turret gear races. These gears, with teeth on one side that mesh with smaller gears, and a bearing race on the other allow the tank turret to rotate 360°. The gear race is made from a European steel similar to Nitralloy 135M. Each gear race is over 8′ in diameter. The parts are masked with to allow certain non-working areas of the gear races to be machined after heat treatment. Parts are heat treated in one of two of Metlab large furnaces, the largest measuring 15′ in diameter by 12′ deep, and 20 or more rings can be accommodated in a single 120 hour cycle.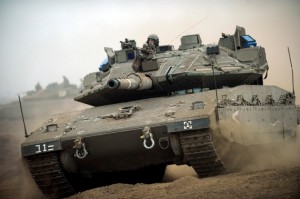 Merkava IV main battle tank used by the IDF forces in Israel. The Merkava tank has been in production since 1979 with the fourth generation model manufactured since 2004.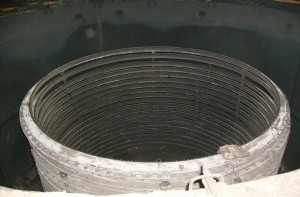 Load of tank turret gear races after completion of the nitriding cycle shown ready for removal from Metlab's large diameter pit furnace. Flaky material on the outside and top surfaces of the gear races is stop off paint used to keep these surfaces soft.
On the current tank turret gear race program, Metlab has heat treated over 1,200 parts. Nitriding was selected as the preferred process over flame hardening, due to its ability to produce consistent, accurate hardening results with no component distortion. Since the change from flame hardening to nitriding, there have been no field failures of any of the components heat treated by Metlab.
The furnaces used for nitriding the tank turret gear races were originally designed and manufactured to nitride ship and submarine gears for the U. S. Navy. Typical drive gears measure over 10′ in diameter by 10′ tall, and weigh in excess of 12,000 pounds each. Over 50 of these gears were nitrided on the original project.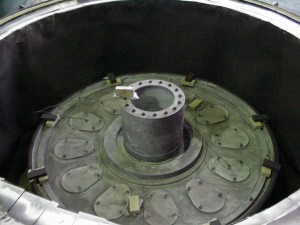 Typical main propulsion drive gear for a submarine/destroyer nitrided by Metlab, shown at the end of the heat treatment cycle, ready for removal. Post heat treatment processes include inspection to ensure that hardness and case depth requirements have been met as well as sandblast cleaning to remove stop off paint from all protected surfaces.
The most recent contract received by Metlab is from a domestic supplier for heat treating tank track connecting pins for the same Israeli defense company. Parts are manufactured from 4140 steel hex bar and measure about 3/4″ in diameter by 14 3/4″ long. The parts connect the individual tank segments together forming a continuous loop which rides on the sprockets. They are heat treated to a hardness of HRC 30 – 36 and must be held straight within 0.015″ over the complete length of the bar.
The contract is for over 150,000 connecting pins; Metlab delivered about half of that quantity in 2014, and the balance is due within the first half of 2015. In addition to the above two contracts, other parts processed for tanks include the induction hardened tank sprockets, road wheels and idler drive gears.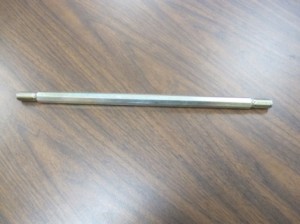 Finished track connecting pin heat treated by Metlab showing threads and plating in place.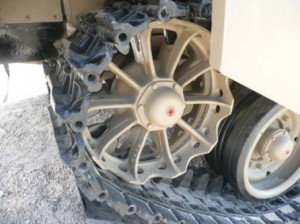 Tank tracks in place engaged with sprocket and road wheel. Each track segment is connected to the adjacent track segment using a connecting pin heat treated by Metlab.
Metlab has for many years processed numerous other military products including induction hardened tank sprockets, road wheels and idler drive gears, and has been a significant part of the military support effort.