Metlab, a Philadelphia based heat treatment company, recently heat treated custom fabricated leaf springs of an antique Alfa Romeo Sports Car, which were fabricated for a Pennsylvania based automobile restorer. The leaf springs, made from HR-5160 steel, were patterned after the original springs which were too worn to be reused during the restoration of the automobile. The replacement springs were hardened and press quenched into the shape of the spring, using a pencil drawn template made from the originals, used as a guide. Then they were tempered to a final hardness of HRC 28–32, duplicating the hardness as measured on the samples.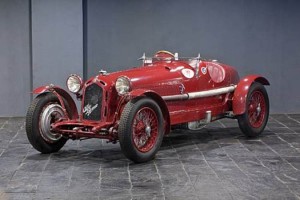 1932 Alfa Romeo 8C2300 Sports Car
The automobile, owned by a private collector, is valued in excess of $1,000,000.00. Metlab is often called upon by automobile restoration companies for heat treating reworked or remanufactured complex engine or chassis components as well as for applying black oxide to OEM automobile parts.
Another recent project included the case hardening of reground lifters from a 1962 Rolls-Royce Silver Cloud engine. The lifters has exhibited about 0.010″ wear, were reground to make them all uniform in size. The grinding however had removed the case hardening, hence the requirement for recarburizing and hardening to restore the lifters to original factory specifications for case depth and surface hardness. As measured surface hardness was HRC 62.
In addition, Metlab is often called upon to nitride O.E.M. as well as reground camshafts, crankshafts and other engine components to restore these parts to original factory specifications. Camshafts are typically manufactured from 4140 or 4340 pre-heat treated steel. This steel has a hardness of HRC 28 – 32. Nitriding results in a surface hardness of HRC 60+ and a case depth of up to 0.020″ deep, providing significant wear protection for the cam lobes and gear teeth.
In addition to hardening and surface treatment services, Metlab offers cryogenic processing on automobile engine, transmission and brake parts for improving their performance extending their useful life.
For more information contact:
Mark Podob
215-233-2600
mpodob@metlabheattreat.com.