When customers think of Metlab, they think of large parts heat treating. But Metlab has a long history of heat treating small parts as well. With the acquisition of the John V. Potero Company  in 2001, moving it from Philadelphia a 10,000 square foot facility in downtown Philadelphia to the Metlab campus in Wyndmoor, forming Metlab-Potero and then the subsequent merger of Metlab-Potero into Metlab in December. 2009. No other heat treating company in North America has such an extensive array of heat treating furnaces, processes, and capabilities.
With furnaces ranging in size from 2 feet in diameter to 2 feet long up to 15 feet in diameter by 12 feet deep as well as up to 22 feet long, parts can be heat treated that weigh a few grams to large pieces up to 50,000 pounds.
Here are some examples of small parts that are processed in Metlab's facility: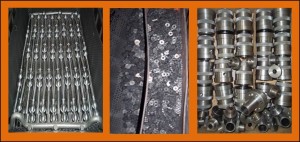 Processes offered include:
Hardening and tempering
Case hardening
Nitriding
Carbonitriding
Nitrocarburizing
Stress relieving
Black oxide
and more…
Recently with the addition of new vehicles and a pick-up and delivery service, Metlab has extended the company's presence into the Maryland and Delaware markets to provide heat treating and processing services for small part needs of the manufactures and component companies in the region.
Metlab is well known for capabilities to handle very large, industrial and military parts for a variety of treatment processes. The company also works with many customers who have small parts and components for a wide variety of applications. The company is experienced in specialized packaging and shipping requirements to send the part on to the next process or to the end customer.
Call for to discuss your small part needs and specifications. Metlab is able to give you a quote and delivery schedule to meet your project deadlines.