Metlab was pleased to host the Wyndmoor, PA Fire Department at it's factory today and present them with a meter for measuring ammonia gas in the atmosphere, as well as a cash donation.
Metlab uses ammonia in one of our heat treating processes to harden the surface of steel parts like gears, automotive crankshafts and camshafts, die casting molds and forging dies, plastic mold tools and other components. The most common use of ammonia is agricultural as a source of nitrogen for fertilizer, but it is also used in water and waste water purification systems, and industrial refrigeration systems. The detector will allow for determining the amount of this gas in the atmosphere to ensure safe levels in the environment. Without their own detector, the Fire Department, in the remote possibility that ammonia needs to be measured in any location in Wyndmoor needs to rely on the Montgomery County Hazardous Materials response team to visit the site and use their own detector. The detector is accurate enough to measure ammonia in parts per million, and is sensitive enough to measure extremely low levels of the gas.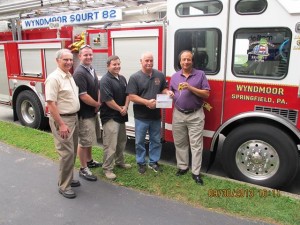 Accepting the meter and check is Fran DePaul, Fire Chief. Jim Conybear, on the far left, and Mark Podob, on the far right making the presentation are the co-owners of Metlab.