Metlab is active in providing heat treat services and consultation to colleges and universities that feature automotive engineering. The Rowan University Society of Automotive Engineering (SAE) group reached out to Metlab for consultation on their latest project, a Baja endurance racing vehicle.
The SAE is a hands-on engineering club focused on challenging students to learn how to design, build, and race vehicles. The students were looking for a source to manufacture gears and pinions. Metlab provided a manufacturing source as well as heat treating consulting and the carburizing and hardening services at no cost.
"We discussed the heat treating process at length with the students so they could gain insight into the processes and expand their manufacturing and engineering experience." comments Mark Podob, President of Metlab. "The heat-treating process is critical to the durability of these key components in racing, especially for off-road, where the conditions are extreme. We are always open to helping students learn and be a part of the manufacturing process for their projects."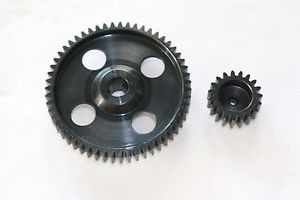 Example of a gear and pinion for off-road vehicles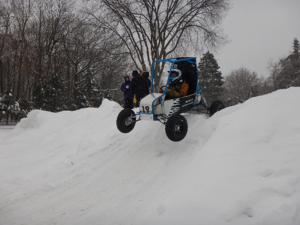 Engineering in action! Student driver in the Canadian competition.
SAE BAJA collegiate challenge is all about durability and endurance. Students are tasked to build an off-road vehicle powered by a 10 HP Briggs & Stratton engine that can make it through a 4-hour endurance race. The car must perform through rocks, mud, sand and an assortment of challenging obstacles. The vehicle design was the first series Rowan participated in and marked the start of Rowan Motorsports in 2002.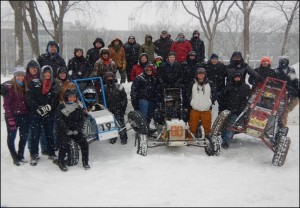 The Rowan Society of Automotive Engineers with team cars.
"We would like to thank Metlab again for the sponsorship! With your help, we were able to finish our new car and compete with it in a competition in Canada. The blue car is our brand-new car. The red and tan cars are from previous years. Our next competition is in April in Tennessee."
Elizabeth Henning
President of Rowan SAE
Metlab has assisted students at Georgia Tech, Temple, Drexel, University of Pennsylvania, and the U.S. Naval Academy on their SAE Automotive Engineered Car programs, providing them with no-charge heat treatment services and engineering consultation. In partnership with several gear manufacturers who utilize Metlab for their heat treating requirements, the students have been able to procure gear sets for their vehicles economically.