As part of its continuing maintenance improvement program, Metlab recently completed a rebuild and upgrade of its two large heat-treating furnaces. These furnaces designated P-1 and P-2 are believed to be the largest atmosphere-controlled pit furnaces in North America. With work zones measuring 12′ in diameter by 8′ tall and 15′ in diameter by 10′ tall, the equipment is used to neutral harden, carburize and harden, nitride, anneal, and stress relieve large components or multiple quantities of parts. With a capacity of up to 50,000 pounds per heat treat cycle, typical components processed include large gears and bearing races, rocket exhaust nozzles, forgings, castings, large weldments and other industrial components.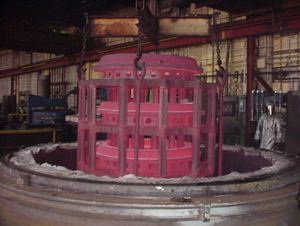 A load of windmill bearing races rasing from Metlab's furnace designated P-1 before quenching in an 18,000-gallon oil tank. Each of the three races measures about 6 feet in diameter by 12 inches tall, weighing more than 2,000 pounds after carburizing.
Capital expenditure of more than $200,000 included new nickel base alloy retorts, cast ceramic floors, insulation, and upgrades to the furnace structure. The furnaces utilize different atmospheres to process parts including endothermic gas for neutral hardening and carburizing, ammonia for nitriding, or nitrogen and argon for scale-free processing. The furnaces rely on sand seals to contain the different gases. The sand seals for both furnaces were also redesigned and replaced. In addition, finned copper tube coils for cooling the sand seals were changed with closed welded stainless-steel chambers for better efficiency.
The rebuild to each furnace took about a month. While the nickel base alloy and stainless steel for the retort and sand seals were purchased as fabrications, Metlab maintenance personnel took over 350 hours to weld the different components together. A temperature uniformity survey (TUS) after completion demonstrated that the furnaces meet the strict requirements of AMS 2750E.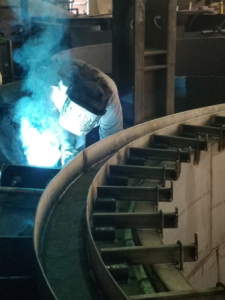 Metlab maintenance personnel welding the cooling chamber for the sand seal on the furnace.
As part of the upgrades, Metlab utilized funds received from a Small Business Advantage Grant from the PA Department of Environmental Protection.

This grant was used to incorporate a closed loop recirculating water system to cool the sand seals and fans of each furnace. The cooling water requirements of the furnaces are more than 20,000 gallons per week. The savings in water, not to mention the environmental benefits of recirculating water, are substantial and were recognized by the DEP as a significant benefit, resulting in the grant. Equally important is the elimination of the need to discharge heated water into the sanitary sewer system.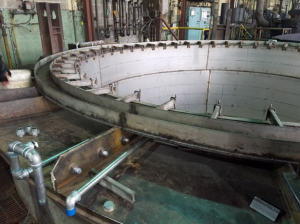 P-2, Metlab's largest atmosphere-controlled furnace, showing the new nickel base alloy retort and sand seal installed. Also shown in the foreground is plumbing for the new water cooled sand seal.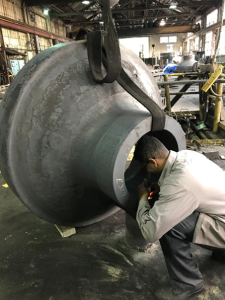 Rocket exhaust nozzle forging is hardness inspected by a Metlab inspector, after normalizing, hardening and double tempering in Metlab's largest furnace, P-2.
The Small Business Advantage Grant provided a 50% matching grant for funds spent on the equipment to Metlab. The cost of the recirculation system, purchased from Dry Coolers, Oxford, MI, including piping modifications and installation was about $35,000.
Metlab began the planning and purchasing of the furnace upgrades and cooling equipment in late 2016. Acquisition of funding, as well as material and components, allowed the project completion in early 2018.