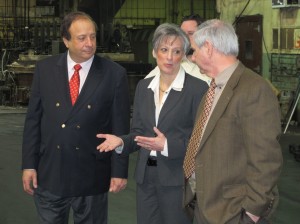 Mark Podob (left) and Jim Conybear (right) owners of Metlab, Philadelphia, PA, welcomed the Honorable Allyson Schwartz, Congresswoman to Metlab on Thursday, April 4, 2013.
The Congresswoman, Representative for the 13th District in Pennsylvania, toured the heat treat plant looking at the two largest pit furnaces in North America as well as such diverse projects as the manufacture of wire supports for the arresting cable mechanism on aircraft carriers, carburizing and hardening crawler shafts for steam shovels, and gears being nitrided for Navy destroyers.
Also noted was the company's black oxide line used for finishing fasteners, machined parts and other components. Discussions focused on issues facing small businesses, Metlab concerns for the future of manufacturing in Southeastern Pennsylvania and ways for attracting and retaining a skilled workforce.