In anticipation of receiving several large gears and bearing races for carburizing and nitriding, Metlab has completed the upgrade of both of its large pit furnaces. The upgrades enhance the company's capability to process parts up to 14 feet in diameter by 12 feet long and up to 50,000 pounds. The equipment improvements included refurbishment of nickel base alloy retorts to maintain the appropriate furnace atmosphere, new insulation, and upgrades to burners, burner controls and other instrumentation. Now two furnaces, each of similar size and each with 4 million BTU/hour natural gas heating capability sit side-by-side, adjacent to two quench tanks for oil or water medium quench. Twin overhead cranes, with a combined lifting capability of 25 tons are positioned over the furnaces to load and unload components. Temperature uniformity surveys of both furnaces performed in accordance with AMS 2750D showed that the workzones were +/- 11.5°F at 1750°F, well within the specification requirements of +/- 25°F.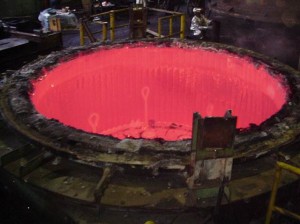 After commissioning of the upgraded furnaces, Metlab commenced carburizing two large 12,000 pound gears, 11 feet in diameter by 7 1/2 inches thick. The gears were carburized to a case depth in excess of 0.250″. The temperature uniformity of the furnace, coupled with special fixturing for supporting the gears during carburizing and hardening, resulted in a heat treated product with minimal distortion and taper. An upcoming contract for nitriding six large main propulsion ship drive gears, each 10′ in diameter by 8′ tall, weighing in excess of 20,000 pounds each, will be run in the furnaces. Company spokesmen indicated that the furnaces would see extensive use for carburizing, nitriding and hardening large gearing as well as heat-treating large carburized bearings destined for use in wind energy turbines.
With over 30 furnaces on-site, the largest 15 feet in diameter, and the longest 24 feet deep, and 40 employees working on three shifts, Metlab, located in Philadelphia serves an international marketplace with an array of comprehensive thermal processes. These include carburizing, nitriding, hardening, annealing, stress relieving, black oxide and other services.
For more information, contact Mark Podob, Vice President, Metlab, 1000 E. Mermaid Lane, Wyndmoor, PA 19038, 215-233-2600, mpodob@metlabheattreat.com.