Metlab assisted the University of Pennsylvania  Electric Racing Team by heat treating one of their critical drive train components. Metlab also sponsors the Penn Electric Car Racing Team by providing heat treating and metallurgical consulting services. The team provided an update and overview of the season and is celebrating a successful program:
The Formula SAE Electric programs, the season ends in Lincoln, Nebraska at the annual FSAE Electric competition. This summer marked the 2nd year that our team, Penn Electric Racing attended the competition – still a very short time compared to many of the programs that are now marking their 20th+ year at the competition.
Last year, with our team's first ever Formula SAE Electric vehicle – REV0, we earned a 7th place in the field of 20 electric vehicles. A placing we all we satisfied with given our standing as a first year car in the competition. We walked away having a number of aspects of the vehicle to improve before next season.
Throughout this past 2014-2015 season, we made the team-wide decision to design, manufacture, and test a brand new Formula SAE car from the ground up. We called it REV1 – our team's second vehicle.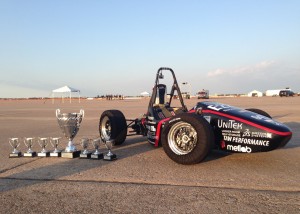 From the start of the season back in the fall of 2014, one of our foremost goals was the expansion of our team. Growing from our team of 10 students in our 2013-2014 season, we ended the 2014-15 season with 30 students. This expanded group gave us the ability to take on slew of new challenges from our vehicles initial design to its final testing. We took our initial vehicle's design and evolved many of its most critical aspects – including its drivetrain, battery pack, chassis, and custom electronics.
At this year's competition, the attention to detail on the safety systems and vehicle electronics allowed us to immediately separate ourselves from the field of 20 Formula SAE Electric vehicles by being the first electric team to pass both the Mechanical and Electrical tech inspections. We ultimately placed in 1st in 7 of the 8 dynamic and static events. Our dynamic performance on the track even placed us right amongst the times of some of the top placing gasoline Formula SAE teams. This earned us the 1st place overall award in the 2014-15 Formula SAE Electric Competition!
First and foremost, we would all like you to join in on this immense satisfaction that we've felt since winning the competition. To every Formula SAE team, sponsors are often the separating factor between a successful and unsuccessful season. Your help this season helped to prove why that is true. We truly appreciate your support this year in helping to bring home our school's first ever Formula SAE victory.
We hope that with your continued support next season, this will simply mark our team's first, with many more to come.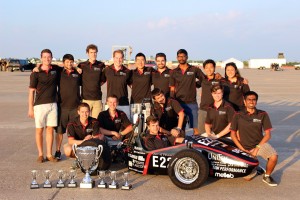 Metlab has a policy of providing heat treat and surface finishing services to various universities and colleges at no cost. Other projects have included the stress relieving of racing car frames for a race car prepared by Drexel University as well as heat treating aluminum rocket tanks for Boston University. It also, from time to time, hires interns and Co-Op students from local Universities, providing them with on-the-job practical experience to help further their professional education.