Many universities have engineering programs which include SAE International's Collegiate Design Series competitions. These competitions afford students the opportunity to design, build and test the performance of a real vehicle and then to compete with other students around the globe in competitions. Metlab has a long history of helping academic automotive programs providing heat treat services of different automobile parts at no cost to the students or schools. The 2021 racing season for the Georgia Tech Off-Road racing team included Metlab's heat treating services contributing to the latest vehicle build.
In an interview with Wasiq Kabir, Team Leader, he revealed that for the first time in 20 years of competing, the team developed their first-ever 4-wheel-drive vehicle. The process required a heavy emphasis on design, fabrication, and validation and an extensive amount of effort from each team member.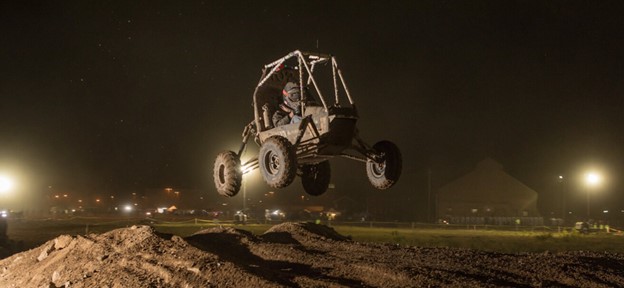 The new Georgia Tech Off-Road Racer flying high
over obstacles on the track.
Wasiq explains, "Metlab heat-treated all of our gears and shafts for the vehicle's transfer case that is part of the drivetrain system to power the car's front and rear wheels. They used their nitriding process. Additionally, Metlab heat-treated our front and rear half-shafts as well as our driveshafts, and they used nitro-carburizing to get high surface hardness without deforming the components."
It took approximately two weeks to receive the parts from Metlab. "We asked them to hurry the job, and they came through for sure," Wasiq exclaims. "It's critical to heat treat these parts because they are all susceptible to surface wear. These parts rotate at high speed, meaning they see high-frequency loading, and one failure mode could be surface wear between any two mating contact surfaces. For example, the gears are spinning at high speed, and the teeth' faces are rubbing against each other as they mesh. Having a high surface hardness is important for long-lasting gear teeth."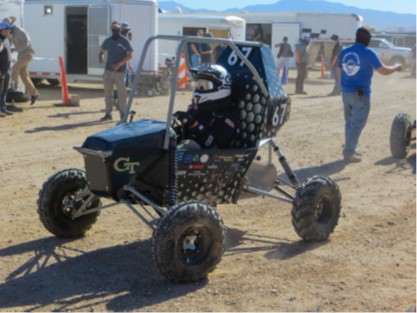 High frequency loaded parts were heat-treated
to achieve a high surface hardness to reduce surface wear.
The gears and shafts that were heat-treated by Metlab were assembled into the transfer case and 4WD system. These parts never failed throughout the Endurance races and earned the team the awards of Best 4WD Vehicle and 2nd place in the Endurance race at the official Baja SAE Louisville competition. Wasiq exclaims, "Our best performance in decades wouldn't have been possible without Metlab's support, so thank you!"
For information on utilizing Metlab's no charge assistance for an SAE Automotive program, contact Mark Podob, President of Metlab, mpodobmetlabheattreat.com, 215-233-2600 Ext. 232.