Metlab provides many heat-treating services for a wide variety of parts and industries. A reoccurring project for coffee grinding equipment features nitrocarburizing of the piping and elbows that comprise the transportation system for the coffee beans. In this system, the coffee beans are moved from the roaster to the grinder. Coffee beans are abrasive, and the customer engineered the required heat treatment to solve a wear problem.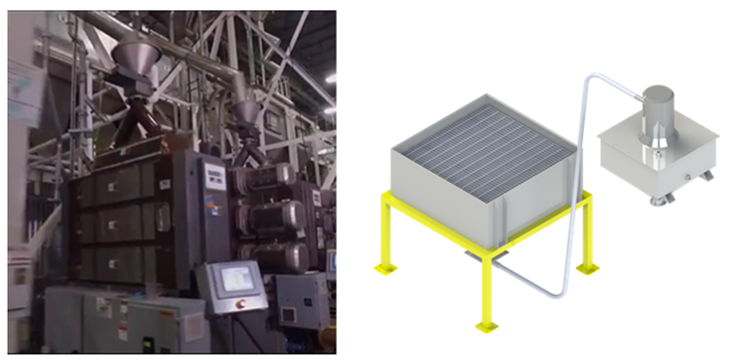 Coffee grinding equipment and transportation system with piping and elbows.
The specification requires the process to nitrocarburize the piping and elbows to form a white layer. This white layer is also known as a compound zone, and contains mixed nitrocarbides, with a minimum of 0.0001″ on the I.D. of each bent elbow. The heat treated piping elbows must not be polished or sandblasted to maintain the specification. The typically angled piping and elbows are about 5 5/8″ in diameter x 6′ for each leg and are made with ASTM A53 Type E Steel, Grade A, or B Low Carbon Steel.
The parts comprise of the following:
• Part: 5″ schedule 10 elbows with a 60″ CLR.
• Size: 5.5625″ O.D. x 5.2945″ I.D. x various lengths and angles
• Weight: 25 to 40 pounds each
Nitrocarburizing is a case hardening process that diffuses nitrogen and carbon into ferrous metals at 1050°F. The process temperature is below the tempering temperature of most steels, and the advantage of this process over other case hardening techniques is that there is no distortion or significant size change to the component being processed – the only size change is about 0.0005″ per side, the growth being the result of the diffusion of the hardening elements into the surface of the components. Therefore parts may be finish machined before heat treating. The process is used to improve scuffing resistance, enhance fatigue properties, and provide corrosion resistance.
Metlab processes the piping and elbows in approximately 72 hours, utilizing one of the two large pit furnaces on site. In addition to coffee grinding parts and components, Metlab provides nitrocarburizing for gears, bearings, and other parts that can benefit from improved wear resistance.