Metlab has worked with a number of NASCAR and Indy Racing Car Teams and also companies that restore antique cars, sports and muscle cars and has a history of heat treating race car parts that must endure severe conditions. Big B Manufacturing is a specialty machine shop located in Klingerstown, PA which specializes in design and engineering as well as machining of small and large components. They also make and race off road cars. Big B brought a project to Metlab that required the heat treating of four (4) link arms.  The arms are fabricated from 4130 steel and TIG welded with 4130 filler. The suspension parts are for Big B Manufacturing's racing team.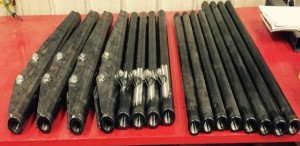 Control arms and other racing car suspension parts
Josh Blyler, Vice President of Big B comments, "Big B has been racing for 20 years. We started in go-carts, then micro sprints. About 10 years ago we started racing off-road 4-wheel drive trucks and we have been having fun doing this ever since. Additionally Big B makes parts for a few different racing companies. We make parts that get used in micro sprint racing, monster trucks, and Ultra4 off-road trucks."  Blyer adds, "For this particular project we needed these parts completed in a very short time-frame to be able to attend an upcoming race event."

The 4×4's take a beating in the "King Of Hammers" competition
(Click to watch the video of the 4×4's in action)
For the project, Blyler consulted with Mark Podob of Metlab to provide some background for the project. "I was looking for suggestions on how hard to make the control arms. All of the top tier teams heat treat their links but nobody really knows how hard. I did some testing on other teams' links and they all seem to be in the low 30 HRC range. What I wanted was to get the most tensile strength out of the suspension parts, but not to let them get too brittle so they would fail prematurely. I was open to suggestions. I was told that because the parts were welded, they had to be normalized first to eliminate the heat affected zone from welding, but again I was looking for Metlab's heat treating expertise."
After analyzing the project, Podob provided some guidance for the heat treating process, "Looking at the data for hardness vs. % elongation and R.A., both mechanical properties which are a measure of ductility or toughness, there is not much degradation in these properties if we take the material to the HRC 36 – 40 range. This would give Big B about  ~ 160 to 195 KSI tensile strength with plenty of toughness to avoid failure from impact or fatigue."
Additionally, Blyler had concerns that the parts would not remain flat, and decided that they should start with one set, assess the parts, and then process the balance.  Byler added, "To minimize any distortion from heat treating, I bolted in temporary spacers in all the tab slots. This helped them keep their shape during the normalizing and hardening process. Each end of the link has threaded holes that I wanted to keep intact as best as possible. These threads are where the Heim joint threads into and they needed to stay in good shape with minimal distortion."  (Note: A Heim joint is also known as a rod end bearing, specifically developed for steering on race trucks as they are heavier duty than ordinary automobile or truck rod ends.)
From this point the parts were sent to Metlab's facility and went right into processing.  Metlab normalized the parts by heating them under a protective atmosphere to 1650°F. They were held at temperature for one hour per inch of thickness. After a sufficient soak time at temperature, parts were slow cooled. Parts were then reheated to 1550°F, also soaked for one hour per inch of thickness under a protective atmosphere, and then oil quenched. All of the high temperature excursions were done with the parts under a protective atmosphere to prevent decarburizing or oxidation. Then the parts were tempered at a temperature appropriately selected to provide the hardness and tensile properties desired. Parts were checked for hardness to ensure that proper results were obtained.
Blyler concludes, "Metlab was able to turn the parts around within two days after heat treatment! This is just one example of why we have been working with Metlab for over 18 years. Metlab provides all of our heat treating, nitriding, and thermal stress relieving needs."

Big B's 4×4 frame with finished link arms and components

Big B's 4×4 "Twisted Mistress" takes home several trophies.
Blyler exclaims, "We finished this car up late last Friday night and raced it Saturday morning. I was not sure how things were going to shake out since I had zero seat time and was also concerned on what issues we may be fighting with on a fresh car. Ultimately the car was flawless and we took the win over 115 other competitors. We had a six minute lead over the second place finisher and I could not be more pleased."
About Big B Mfg.
Located near Harrisburg, Pennsylvania, BIG B MFG will provide over 50 years of experience with manufacturing, design and engineering and full production capability that will ensure your company can realize lower material and assembly costs while ensuring high quality in an ever changing market place.